Description
$14.99 US Dollars
One set of Dog Tags includes:
2 Stamped, Stainless Steel Dog Tags, Made in the USA
1 Stainless Steel 27" ball chain, Made in the USA
1 Stainless Steel 5.5" ball chain, Made in the USA
2 Black Silencers
Free First-Class US Mail Shipping
Free gift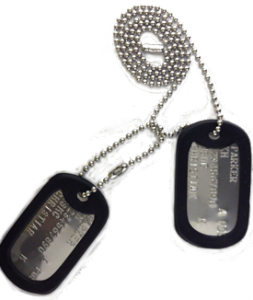 NOTE:
As of Jan 2015, the US Government uses a soldier's DOD (Dept of Defense) number instead of their SSN (Social Security Number) on dog tags.
If you would like dog tags exactly like they are issued today, use your DOD number.
If you would like dog tags that were issued before Jan 2015, use your SSN.
If you do not want either, put your phone number, date of birth, other number, or leave it blank.
On Line 1, the last name usually does not have a comma after it.
On Line 2, the initials can be stamped together, AA , with periods between the letters, A.A. or with spaces, A A . All are acceptable.
On Line 3, the DOD number is stamped without dashes.
If you would like dashes within the numbers of your SSN, put them in the text boxes. We do not automatically add any characters to the inputted text.
You do not have to follow this format. You can put any text on any line.