Description
$9.99 US Dollars
Includes:
1 Stamped Anodized Aluminum, Red Dog Tag, Made in the USA
1 Stainless Steel 27" ball chain, Made in the USA
1 Silencer
Free First-Class US Mail Shipping
Free gift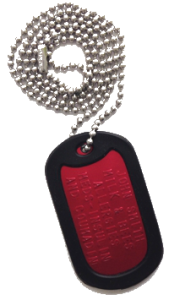 NOTE:
The Red tag is a third tag added to the set of two tags in a military dog tag set.
It is worn on the long chain of the dog tag set and is not worn separately from the military dog tag set.
If you do not have a medical condition, you are not issued a Red tag.
If you are looking for stainless steel finish Medical ID, please use the Civilian ID – Medical page here.